Infinite scroll is a web design trend that uses AJAX page load instead of numeric page navigation to automatically load your next page content or products. It displays at the end of the current page or products.
The basic functionality is that, when the user scrolls through the content, more content is loaded automatically.
When you enable infinite scrolling on the shop page that makes it easier to browse more products by simply scrolling down. It loads products continuously and infinitely as users keep scrolling.
The best example of infinite scrolling design is the popular social media sites like Facebook, Instagram, Twitter, Pinterest, etc. You know how contents load endlessly on your social media timeline if you are using one of them.
How you can benefit from Infinite Scroll:
The most significant benefit of the infinite scroll technique is a smooth browsing experience. Some other benefits include –
Infinite scroll creates a more compulsive viewing experience to keep users engaged and create a more seamless feeling for them.
It will improve your online store usability by loading products on the shop page automatically while scrolling. Users don't have to use the standard pagination.
You will be able to highlight many products in a shorter time and without users taking unnecessary actions.
Also, it will improve performance on mobile by allowing pagination based on the scrolling. The users don't need to click on the tiny page numbers.
Enable infinite scrolling on the shop page:
Infinite Scrolling has to be implemented in the best possible way so that site visitors can always find their way.
If you have decided to enable infinite scrolling to your Flatsome theme, then you can do it easily.
We have also added a video tutorial on the same topic –
If you prefer video over text, follow the steps given below :
Navigate to Infinite Scroll option from Advanced under the Flatsome menu.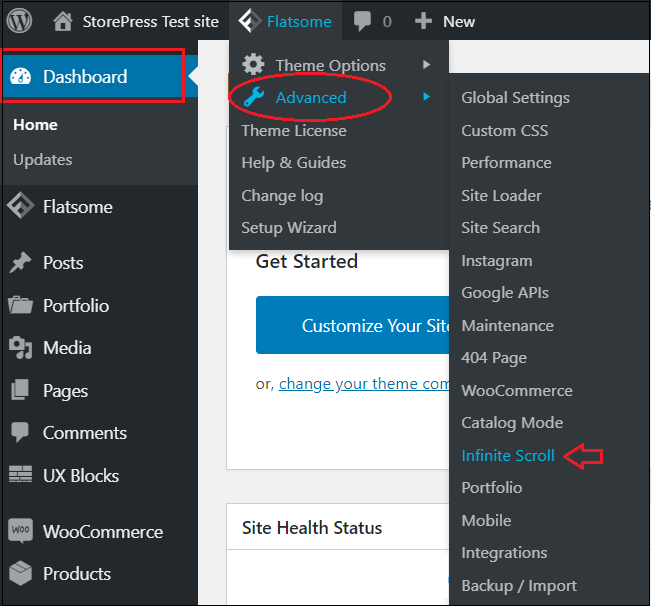 You can simply enable the infinite scroll option from this page –

On the same page, you can select loading type from Button (on click), Spinner, and Custom Image. For 'custom loader image' you will have to upload a custom loafer image.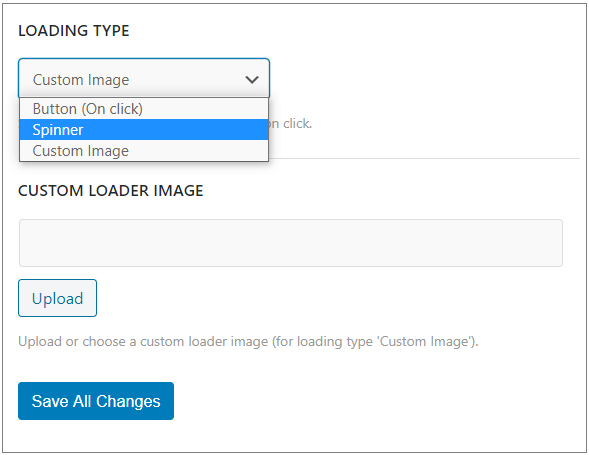 After that, click on the 'Save All Changes' button to save your settings.
Infinite scrolling is a better solution that offers your customers all products simply by scrolling down the shop page.
It will reduce the loading time of the shop page and your customers will be able to see all results at once. This option is a basic need for every online store.
If you need more tutorials on Flatsome theme or WooCommerce, let me know in the comment section. I'll write the next tutorial for you.