WooSwatches WooCommerce Variation Swatches is a plugin turns product variation selection dropdown into color, image and label swatches. 
Generally, WooCommerce default variation for variable products comes with tradition selection dropdown. Consequently, customers have to click and check each product attribute variation one by one.
On the other hand, when you have WooSwatches WooCommercec Variation plugin activated, it can convert your variation select dropdown into color or image or label swatches.
Key Feature of WooSwatches WooCommerce Variation Swatches
The plugin comes with plenty of extraordinary settings to design your best WooCommerce Variation swatches plugin.
With this plugin, you can enable color swatches, image swatches, and button swatches all together. Furthermore, it offers tooltip to explain WooCommerce attribute product variation.
Even you can define the swatches shape style from square to round and round square. The feature I found amazing attributes behavior. The attribute behavior allows you to blur, hide and cross out of stock attribute variation.
Enable WooCommerce Color Variation Swatches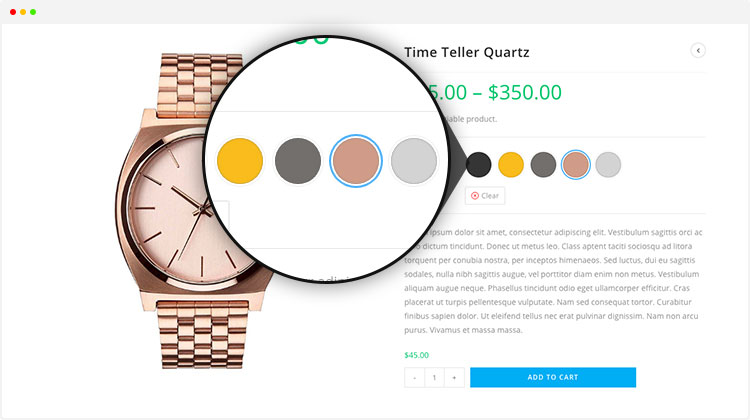 While purchasing products from the online store, you may have to select your color from color variation select dropdown. To give better user experience most popular WooCommerce Variation Swatches offers an option to set specific color code for those variations.
It removes tradition variation select dropdown and replaces with color swatches. The option comes with easy options in the backend to specify color codes using color-picker. To kick start right away, read tutorial to enable WooCommerce Color Swatches in your store.
Enable WooCommerce Attribute Image Variation Swatches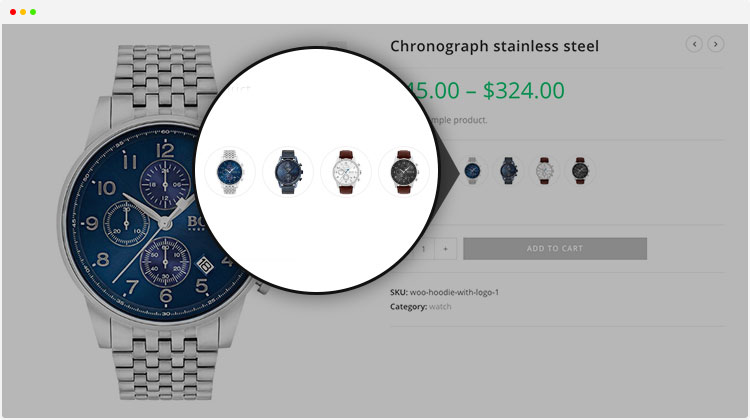 Besides showing individual color to represent product attribute variation color, you can set images for variations. Images would appear like the tiny thumbnail. If you have a single attribute for your variable product. you can enable image attribute instead of color. If you have two attributes. For example color and pattern. You can set colors for Color attribute and images for Pattern attribute.
The process of adding image attributes is the same as color attributes. In attribute variation setting you had to add colors from color-picker. On the other hand, for image attributes, you have to add images for image attribute from the media library or local computer. To add image to attribute in your variable product, follow tutorial how to create WooCommerce attribute image swatches in few minutes.
Enable Label/Button Variation Swatches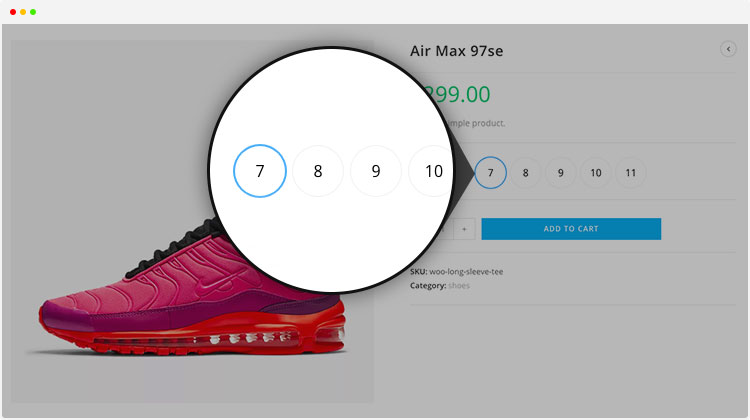 The WooCommerce Variation Swatches and photo plugin can change variation drop-down into buttons. It means you can enable label/button for product attribute variations as well. If you are using the free version, you can create button attribute variations globally.
On the other hand, premium version allows to create product basis button swatches. So, if you want to define button swatches for some selected product, you can do it as well. To active button swatches right now, read my tutorial to enable button variation swatches for variable product. To kick start right away, read tutorial to enable WooCommerce Color Swatches in your store.
Enable Swatches on QuickView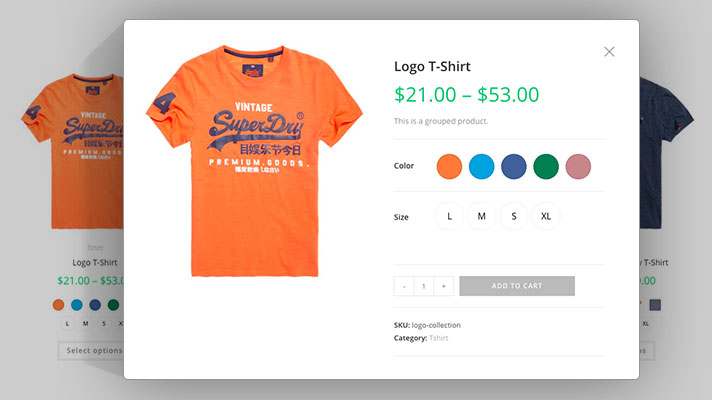 WooCommerce Variation Swatches comes with an option to enable swatches in the Quickview like the product page itself. It doesn't come with entire Quickview feature separately, but enable variation swatches for product quick view comes built-in the WooCommerce theme or added by a quick view plugin.
Blur/Hide/Cross Out of Variation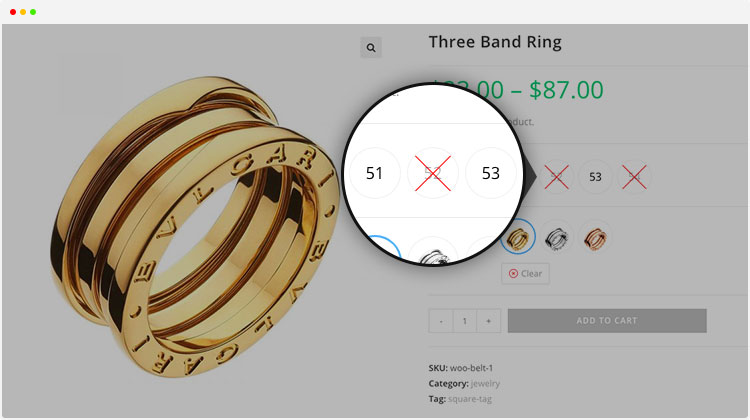 Sometimes it becomes difficult to differentiate out of stock variation among the products in the stock. To keep the out of stock variations separated, WooCommerce product variation Swatches, allows you to blur, hide or set a cross sign for out of stock variation swatches. The option is easily configurable from the plugin backend settings.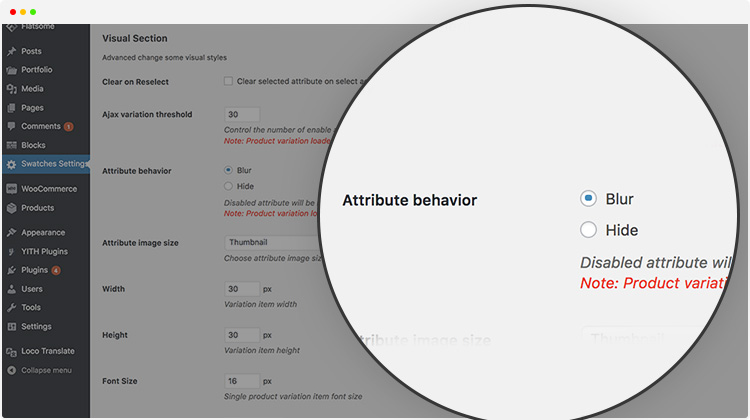 Swatches Tooltip To Describe Variation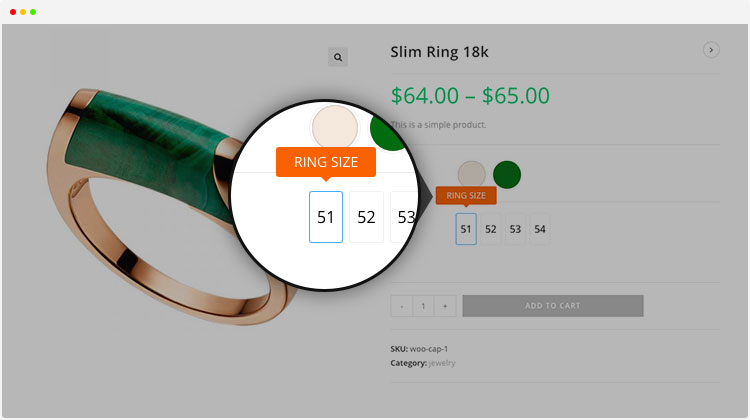 Tooltip is another crucial feature of product attribute variation swatches for WooCommerce. It describes the variation in short. With default WooCommerce variations, you can explain in short for product variation. With the help of this plugin, you can do. It can be kept enabled or disabled from the backend.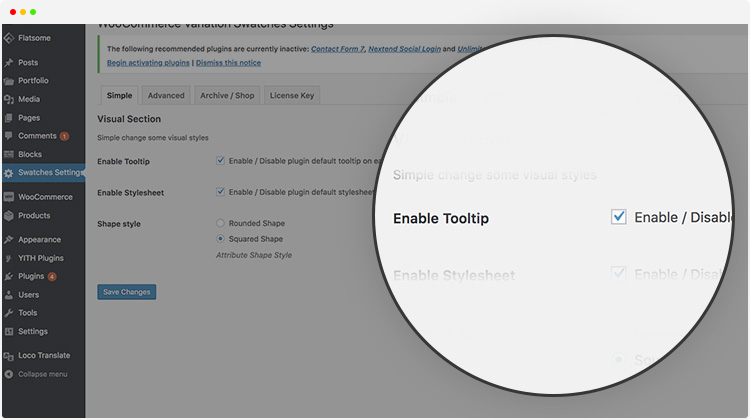 Enable Round & Square Style
WooSwatches plugin comes with two different shape styles to display variation swatches in the round and square style. By default, swatches display in the squarer shape, you can change the shape style to round from the backend settings.